There are no translations available.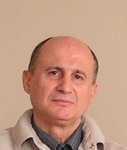 Vladimir Pulov
Associate Professor of Physics
Qualifications:
Ph.D. in Physics, TU-Varna, Bulgaria, 2010
M.Sc. in Physics, Sofia University, Bulgaria, 1983
Biography:
A native of Razgrad, Bulgaria, Dr. Pulov has been at TU-Varna since 1986 teaching Physics, Calculus and Linear Algebra for undergraduate students.
Research Interests:
Dr. Pulov's research is primarily in the areas of Mathematical Physics, Differential Geometry and Symmetry Analysis of Differential Equations.
Public Profiles:
https://www.researchgate.net/profile/Vladimir_Pulov

https://academic.microsoft.com/#/search?iq=%40Vladimir%20Pulov%40&q=Vladimir%20Pulov&filters=&from=0&sort=3

https://scholar.google.bg/citations?hl=en&user=tRWV-1oAAAAJ&view_op=list_works&sortby=pubdate

Publications:
Click here for the list of publications.

Contact Information:
Department of Physics
Technical University of Varna
Studentska Str. 1
9010 Varna
Bulgaria
Email Address:
This e-mail address is being protected from spambots. You need JavaScript enabled to view it